TGL

Fabrication Company Limited

                    "A growing Company with a growing reputation"
Message from our Managing Director:
TGL Fabrication Co., Ltd. recognizes that in today's competitive marketplace, effective quality systems are essential when providing quality cost effective services to our clients. Our management is totally committed to providing Commercial & Industrial General Contracting Services that comply fully with the specifications and expectations of our valued clients. Therefore, it is the policy of TGL to adhere strictly to a set program and to insure that this program and the requirements of our customers are met on each and every project we execute. All employees of TGL strive daily to improve the quality of our services to our clients.
Our Asian manufacturing centre was set up in Sattahip Thailand in the year 1982, this area is also recognized as one of Asia's leading industrial manufacturing hubs serving South East Asia. We initially opened the Company to serve the onshore & offshore drilling and production industries here in the Gulf of Thailand. Due to the huge demand for steel fabrication in both onshore & offshore we  expand into  International market which allowed us to create a whole new Customer base. We have grown to encompass clients ranging from Oil & Gas onshore & offshore to Factory owners, Power Stations & Hydro plants, or  anyone seeking more storage space or workshops fabricating. TGL being an independently owned & operated business, the team prides itself with the ability to work with customers to deliver the highest quality systems anyone can produce. Our mission is to provide you the customer with the highest quality work which fully serve's your needs and expectations through fabrication & after service. We will be more than happy to provide you with a quote for your project, we can work "with you" to help design your project if our experience will help to you in any way.
Our client list ranges from International , Domestic companies as well as  individual businesses. Our pride and ingenuity has built our business to what it is today.
TGL's Commitment is to provide personal attention and detail to any and all products we produce giving quality and value in order to earn and keep all present business and future business. If you are not one of our valued customers, please give us the opportunity to show you just how we can be of service to you & your Company.
---
Fuel Tanks fabricated at TGL Workshop,
transported to Laos and erected onsite for a client.
Specially manufactured Skid for an International Customer.
Associated Third party testing Companies:
Bureau Veritas (Thailand) Ltd.
Germanischer Lloyd
Intertek
Moody International (Thailand) Co.,Ltd.
ICO Asia Pacific (Thailand) Ltd.
IQI Inspection Services (1988) Co.,Ltd.
Petroleum Companies as Customers in Thailand:
PTT Exploration and Production Public Company Limited
Chevron Offshore (Thailand) Limited
Chevron Thailand Exploration and Production, Ltd.
Pearl Oil (Thailand) Ltd.
Shell Oil & Gas (Worldwide).
Baker Oil Tools (Worldwide).
Bechtel International, Inc.
TGL's Customers in Thailand.
Precision Power Service Co.,Ltd.(PPS)
Expro PTI; Expro Resource Limited
Expro Overseas Inc. (Thailand Branch)
Mubadala Petroleum (Thailand) Limited
Pan Orient Energy (Thailand) Ltd.
Pan Orient Resources (Thailand) Ltd.
Alcan Alumina Project G3 (Sattahip)
Asia Brown Bovril, Ltd. (ABB)
Auto Alliance (Thailand) Co.,Ltd.
Clough (Thailand ) Ltd.
Electrical Generating Authority of Thailand (EGAT)
Kone Cranes Services Co.,Ltd.
Nakornthai Strip Mill Public Co., Ltd. (NSM)
Oil States Industries (Thailand) Ltd.
Rayong Engineering & Plant Service Co.,Ltd.
IRPC Mapthaphut.
Thai Industrial Gases Factory (TIG)
Thai Petroleum Co.,Ltd.
Bayer Inter Rayong.
Carbon Black Ayutthaya.
Our team has manufactured these waste boxes for Pearl oil.
We have built a 20 Ton Mud Tank for a Project in Petchaboon Onshore Rig.
Fabrication of an independent Load testing unit for Thunder Crane
Program Development / Writing
Procedure Development / Writing
Reports Development / Writing
Shop Inspection

Field Inspection
Plans / Audits / Remediation Scopes
Training
Architectural
Civil
Mechanical
Piping

Structural
Instrument & Controls
Electrical
Communications
References:
American Society of Mechanical Engineers (ASME)
Boiler and Pressure Vessel Code, Section VIII Division 1
ASME/American National Standards Institute (ANSI) Piping B31.1 & B31.3
National Board Inspection Code (NBIC)
American Welding Society (AWS) Standard for Certification of Welding Inspectors (CWI). Standard QS-1
American Petroleum Institute (API) Standards 510, 570, 653 and associated Certification of Inspector Programs
Instrument Society of America (ISA) Certified Control System
Technician (CCST) Program Level I, Level II, Level III
National Fire Protection Association (NFPA) Codes and Certification Programs. NFPA 325, 496, 497 and API 500 NFPA 70, National Electrical Code (NEC) and Certification Program
Control Systems:
Control System Pre-Commissioning
P&ID Verification
Control System Vendor Surveillance
Construction QC:
P&ID Walk Down
Control System Commissioning
Control System QA/QC
Commissioning:
Operating (SOP)
Training modules
Process technology packages
PSM & ISO 9000 documentation
Review & Evaluate existing procedures
Mechanical Integrity procedures

Maintenance
Instrument controls narrative

Laboratory procedures / methods

Environmental
Safety
Health
Emergency Response
Manufactured Underwater Plem Line, A Frame & Caisson Decks for CEC
International Limited (Thailand Branch).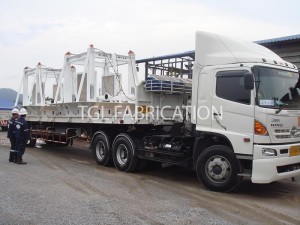 ---
We  manufactured Caisson Decks for our Valued Costumers.
We fabricate Propane/Nitrogen Racks for our Valued Client Onshore & Offshore.
We fabricate Half Height Containers Sand Blasted and Load Tested them for our Clients.
We fabricate Storage Containers with a Set of Sling per Clients Request.
---
COMPLETION FLUIDS FILTRATION:
Clean completion fluids are essential for a successful completion of an oil or gas producing well. TGL manufactures a full range of equipment for a reliable and effective filtration service such as: Twin filter unit with multi filters installed, slurry skids, pump units. Our absolute and nominal rated cartridges will complete the total scope of products.
Rope, Soap, & Dope
Back in the "Old Oil field Days", the working hands referred to their daily materials as "rope, soap, and dope" items. The rope was used for hoisting the materials up to the derricks and platforms, the soap was used to clean tools, machinery, and themselves, and the dope was grease, lubricants, and fuel to keep the machines running. The term is now generic to the daily needs in the oilfield, refinery, chemical,fabrication, and manufacturing industry.
These daily needs have changed as times changed. Rope, soap, and dope items now include pipe, flanges, fittings, valves, safety goods, and the list goes on and on. Supplying these needs to companies requires a company dedicated to the industry;
TGL Supply is that company.
TGL Supply started out as Rope, Soap, and Dope service back in 1998. We began by servicing the oilfield industry in Southern Thailand in the early days and branched into fabrication and manufacturing industries. The goals have always been to provide the best services and competitive pricing to our customers. Whatever you need "TGLSupply" strives daily to find it for you. TGL will supply your needs in a timely manner and at very competitive prices.
PIPE, VALVES & FITTINGS
FLANGES
WELD FITTINGS
STUD NUT & GASKET SETS
FORGED STEEL FITTINGS & O'LETS
HAMMER UNIONS & SEALS
MALLEABLE IRON FITTINGS
PIPE & SWAGE NIPPLES
BALL, GATE, GLOBE, CHECK, & BUTTERFLY VALVES
ALL ABOVE MATERIAL AVAILABLE IN ALL CARBON/STAINLESS/ALLOYS
Fasteners of all types, Grade, Alloy, & Finishes Special Coatings & Plating with short turn around time.
PIPELINE EQUIPMENT & SUPPLIES
PIGS, SPHERES, CUPS & DISCS, BRUSHES
SPECTACLE BLINDS, STRAINERS, ORIFICE PLATES,
SHRINK SLEEVES, COATING, TAPE, CLOSURES, COATED U-BOLTS,
NIGHT CAPS, VICTUALIC, ETC.
INSTRUMENTATION PRODUCTS
SS TUBING & FITTINGS
GAUGES, & NEEDLE VALVES.
GASKETS IN ALL TYPES
SPIRAL WOUND, RUBBER RING, NON-ASBESTOS,
GARLOK, PIKOTEC, APS
TGL Supply is a Service Oriented company to the Oilfield Industry!